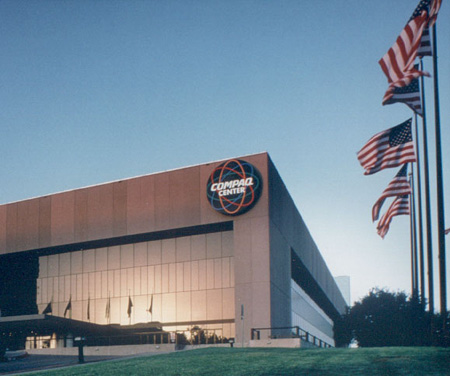 Houston Compaq Center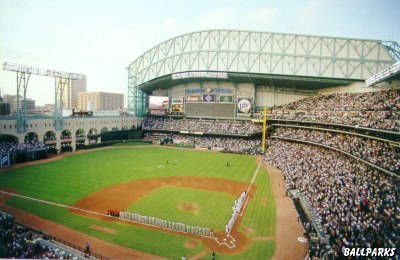 Astros Field
About Stadium DJ
Stadium DJ was first designed in 1998 when the CISL Houston Hotshots moved from the Summit (now the Compaq Center) to the Astroarena for their home games. The Compaq Center had always supplied the music and entertainment for the Hotshots, but when the team moved to the new arena they were in need of somebody to provide the music and soundclips. I heard about the team needing someone to do sound and volunteered to do it for them. Instead of trying to use multiple CD Players and a mixer, I decided to write my own application to play the music. I have been a computer programmer for just about 10 years now, and decided that it would be far easier to point and click with a mouse than to frantically search and cue up CD's during an event. I decided to use Microsoft's Media Player to actually play the media files because of many media formats that it supports. I spent a few months actually looking for soundclips and songs off the internet and organizing them into folders for different game situations.
While working with the Houston Hotshots, I was fortunate enough to meet the Houston Aero's DJ at that time. He showed immediate interest in my application when he saw it in action at the Houston Hotshots games. He asked me if I could cover some of the Houston Aeros games when he had conflicting DJ gigs and I told him that I could. I was then asked to DJ the Houston Aeros games for the next two years.
While working for the Houston Aeros, I met Doug Swan (who operated the scoreboards at the Compaq Center for both the Houston Rockets and Houston Aeros). Doug now works full time with the Houston Astros and was fortunate enough to get my software introduced with the Houston Astros Organization. Stadium DJ is now being used for its second year by the Houston Astros.
Since then, I have been contacted by various professional sporting organizations about the availability of my software. I have heard from everyone that I have worked next with that StadiumDJ if far superior to any other Software Package available for Game Operations at this time. StadiumDJ was first created to make my job as a Sports DJ and mobile DJ easier and now I am offering it to you.
Copyright 2021 Stadium DJ
16226 Tahoe Ave, Houston, TX 77040
Phone: 832.890.3113